Teak wood
Robust, easy-to-care for wood
The tropical hardwood teak originates from East and South-east Asia and is characterised by its longevity plus its intensive golden-brown colour. This elegant wood is perfect for indoor and outdoor furniture as it is easy to clean and care for.
Left untreated, teak wood bleaches outdoors after even a short period or turns a shade of silver-grey and later dark-grey and sometimes even light green. This patination occurs due to the sun's UV rays. In order to preserve the vivid brown colour tone, treat your piece of furniture straight after delivery with the Teak Protector. That way the wood remains protected and the appearance is preserved. The wood should be dry and clean before application.
If your furniture has already developed a grey patina, the special cleaning agent Teak Hardwood Cleaner reestablishes the original appearance.
To protect your teak products from dirt, dust and other stains, seal the surface with Teak Shield: Wipe off any dirt with a damp cloth beforehand. If the stain remains, sand it by hand (careful: do not sand with a machine: the heat creates ugly dark patches) and seal your teak furniture afterwards - so coffee, oil stains etc. don't stand a chance.
OUR Tip:
In order to prevent stains, do not place any hot objects on the table's surface!
the correct storage of teak furniture
Untreated teak products are not sensitive to cold, ice and snow. Therefore they can remain outdoors without any problems.
Oiled furniture should be stored undercover. If this is not possible it should be covered with protective coverings. Do not store teak wood products in very warm places to prevent drying-out and unsightly cracks.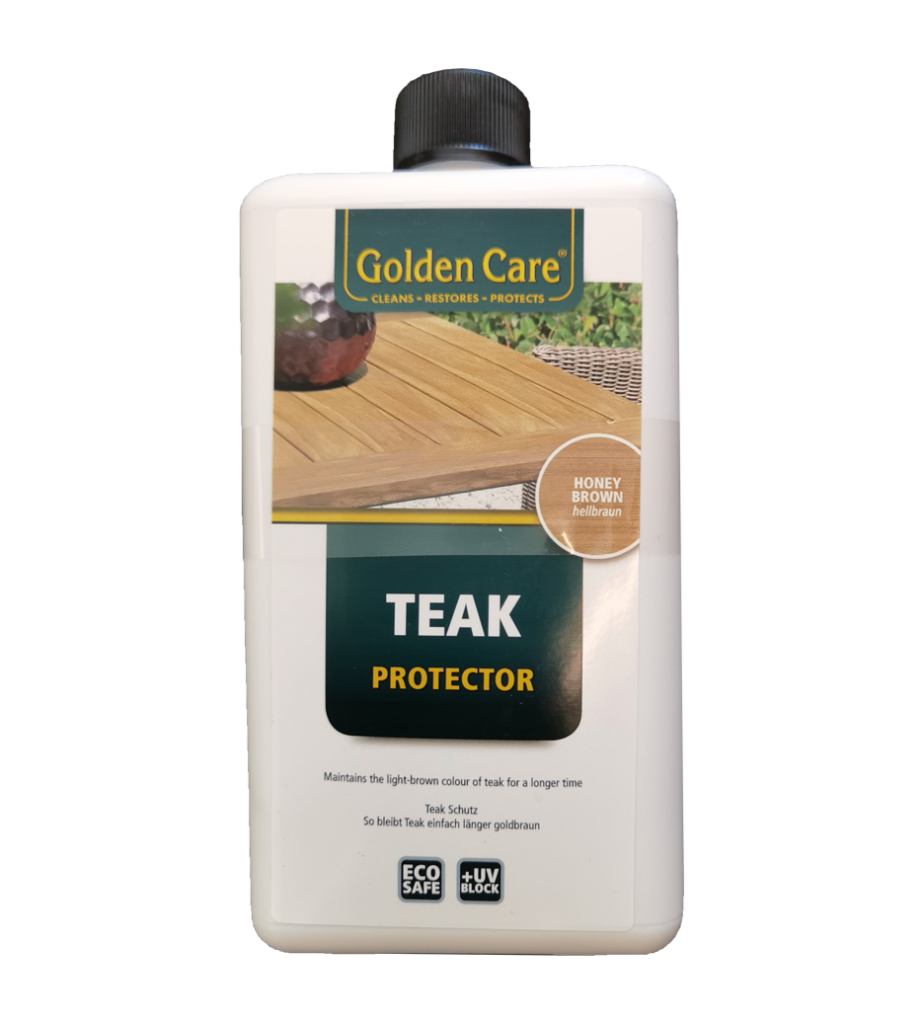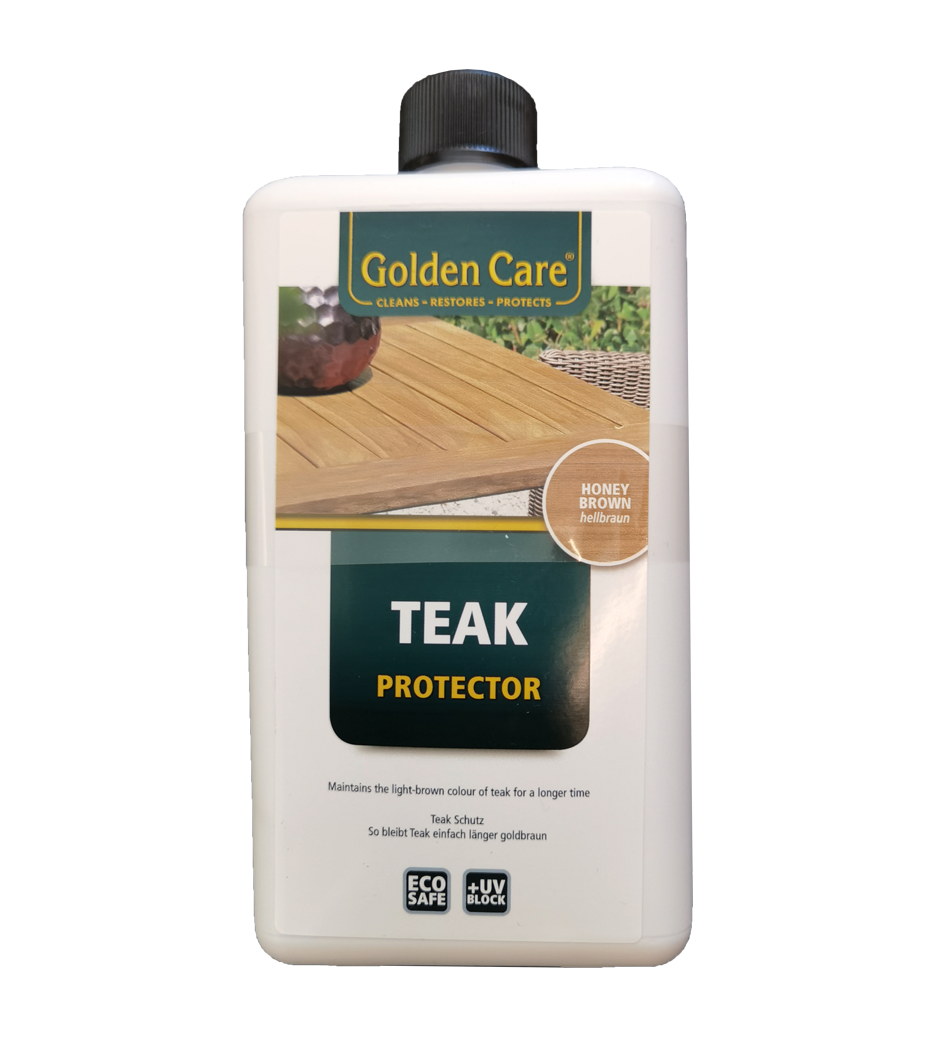 Golden Care Teak Protector
Protects against weathering, mould, black & green stains
Preserves and/or recreates the gold-coloured patina
Suitable for indoor & outdoor areas
100% biological, water-based
Easy to apply, dries quickly, no residue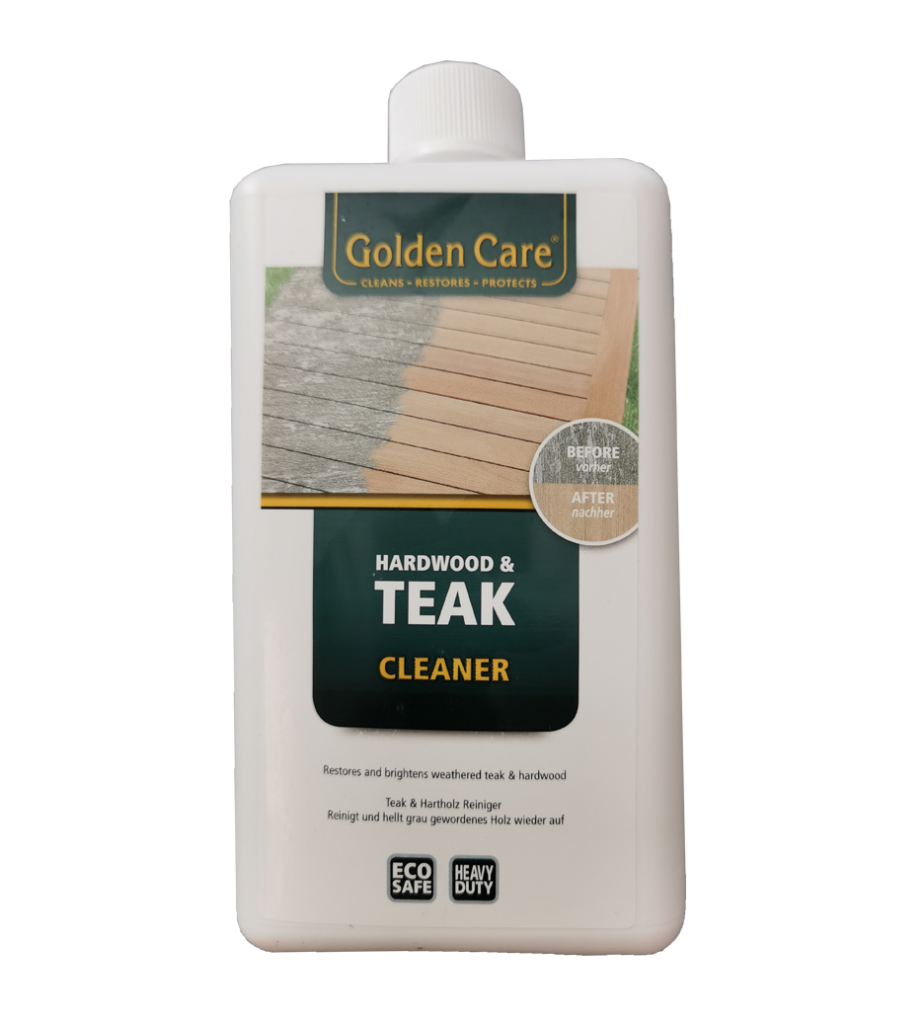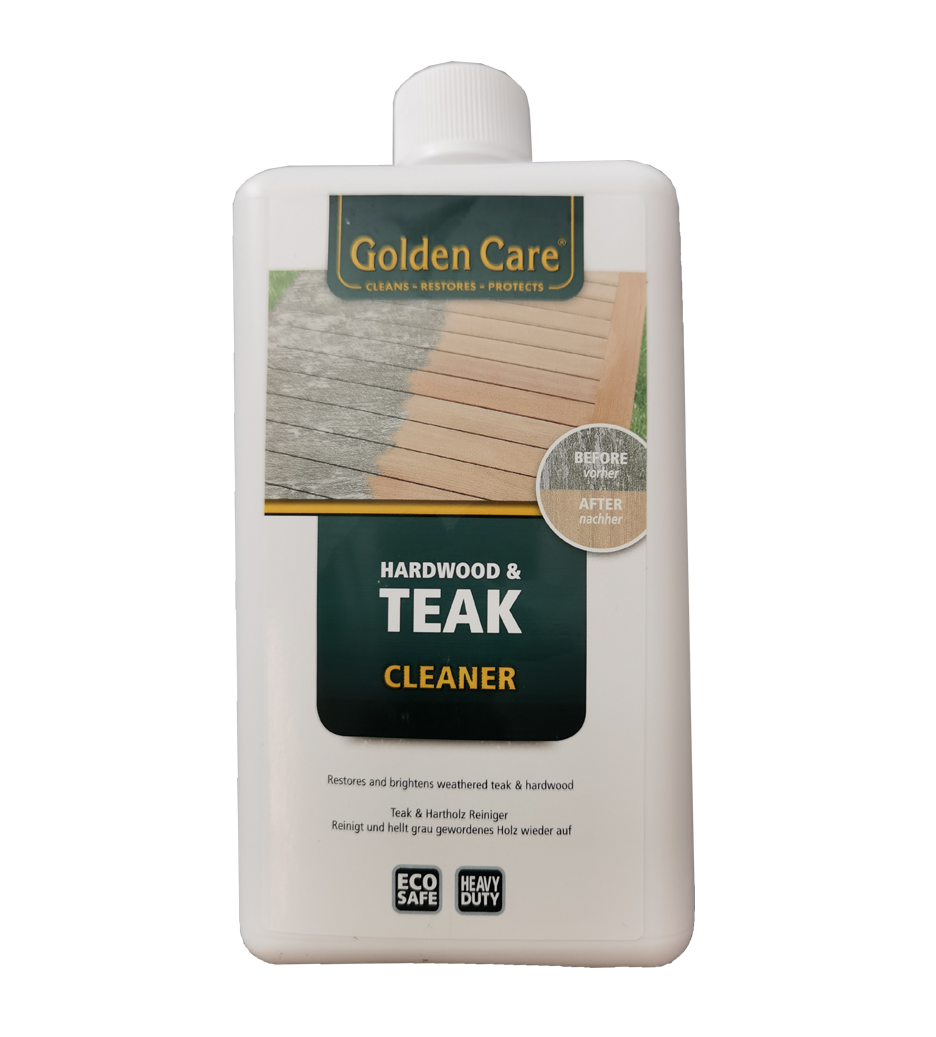 Cleansing & lightening effect
Classified as non-hazardous
100% biological, water-based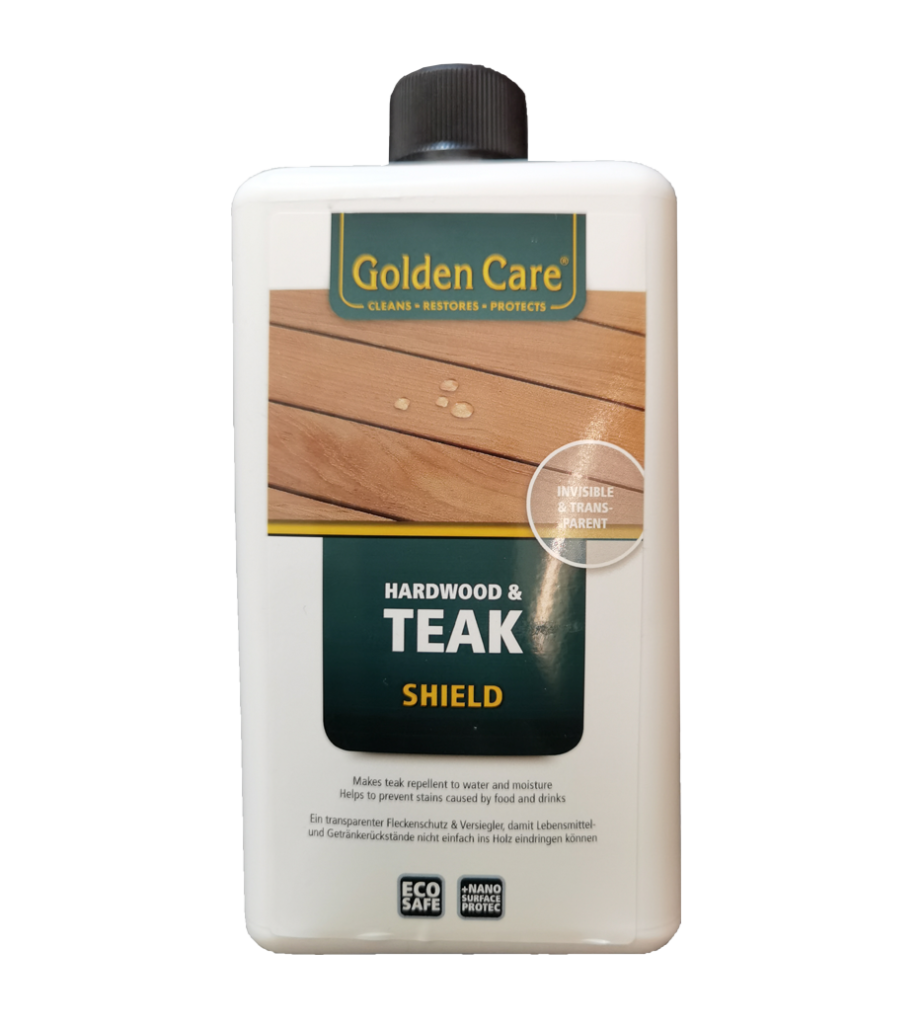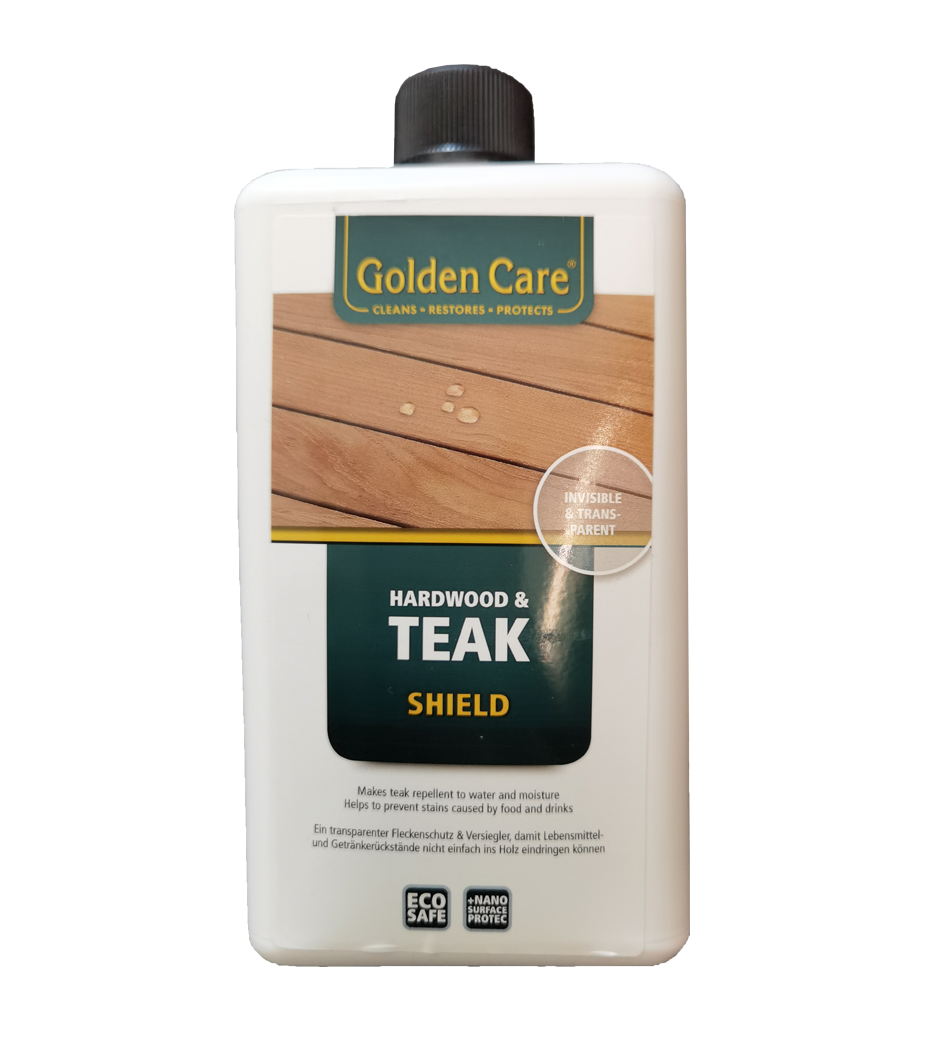 Prevents / hinders the penetration of grease, oil, coffee, or wine
Easy to apply
Odourless, non-infammable, non-greasy/oily
No wiping dry necessary (product is completely absorbed by the wood)
Promotes the developement of a natural patina